Throughout my EDTC 300 class I have learned a lot from all my peers, our instructor and the topics within this course. For this blog post I would like to say I had so much fun getting to know everyone. As for this assignment I would like to say I have contributed to others learning in many ways through Twitter, Blog post comments and one in Discord. When I first heard of this course through a friend I was so curious as to what EDTC 300 is all about and being in this course with all my classmates and learning from our Instructor Katia Hildebrandt on technology & social media I can say I had fun learning and being connected to my classmates through the different social medias and the many interesting technologies. Reading the many comments was interesting as it helped me in a way when I couldn't figure our some things on my blog. As a future educators it is important to be educated about technology as it helps students understand how to be good citizens (digital citizenship). Using technology the right way helps your students understand as well the responsibilities and safety when using technology in the classroom.
Thinking about Discord, I found it beneficial as I got to read how my classmates were helping one another and sharing their experiences throughout their learning journeys within this course and as well asking questions. As far as I know with contributing to others on discord I replied to one students question. Might not be much but here it is.
Twitter
Overall I had fun learning more about Twitter as in the beginning I already had an account but wasn't that active on it until this class in which I enjoy being on twitter and sharing resources from Feedly (resource guide) as well commenting on my classmates post. I feel that I have learned a lot from my classmates as they shared some very interesting and beneficial resources, links and videos that connects to education, technology, students, lessons and so much more. These sites are amazing as they help educators find helpful resources for the classroom and I will continue to use throughout my education in my program as well as in my future classroom. Here are some of my comments to my classmates through Twitter: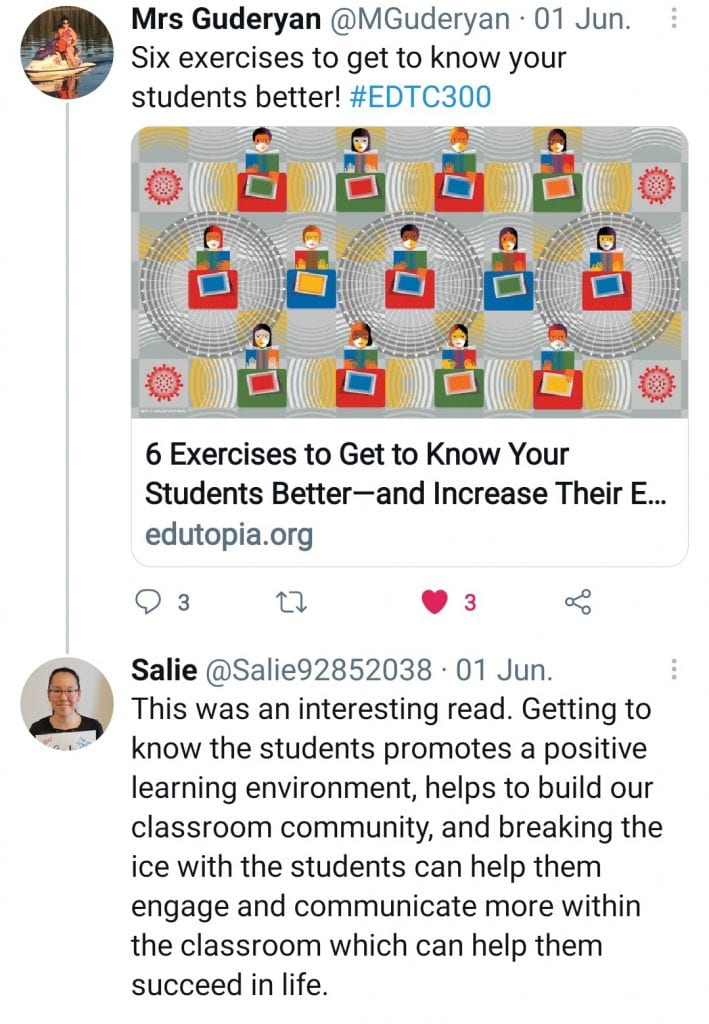 Blogging
Before this class I did not know anything about blogging and the many sites that we can use to create our blogs (WordPress, Edusites, Edublogs) however, as the semester went on I got to understand of what blogging was and personally I found it beneficial for me as I was able to communicate/comment with my classmates through their blogs and learning projects, learn to hyperlink words, add videos, and pictures. I loved reading new ideas from my classmates in which everyone had amazing learning projects. I was able to create a learning project that I have always wanted to do (making brick stitch earrings). Some of my blog comments are shown below: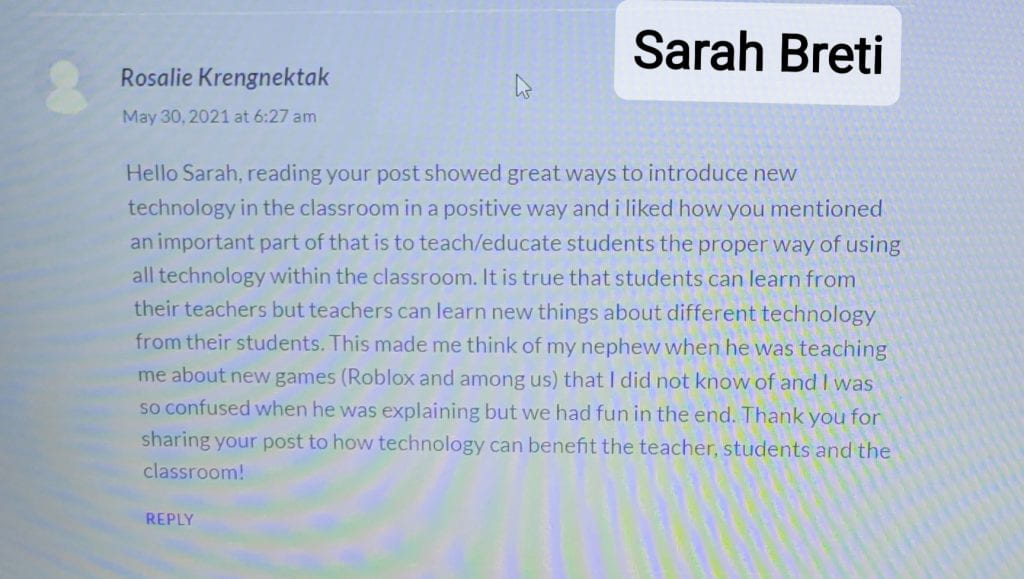 There are a lot more comments that I have done however, sadly this post can not contain all my comments that I contributed to others so I added some blog comments shown above. I have learned a lot from this class as to our future classrooms we must remind to bring awareness to our students that safety is very important and remind them that most social media's are public so by educating them on their digital identity, think before they post and as educators its important to share our knowledge of what the pros and cons are to social medias and the use of technology in the classroom as well share resources we find to help others.